Community Profile

Free Account
Created on 2011-05-16 20:42:48 (#890153), last updated 2017-08-18 (18 hours ago)
1,558 comments received
234 Journal Entries, 167 Tags, 0 Memories, 0 Icons

About
| | |
| --- | --- |
| Name: | For your aural pleasure |
| | |
| Website: | Collection on AO3 |
| Membership: | Open |
| Posting Access: | All Members |
| Community description: | A collaboration challenge for writers and podficcers |

Mini Bio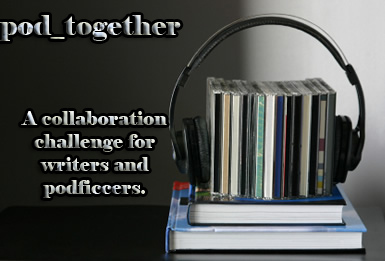 Welcome to

pod_together
(also mirrored on
Livejournal
,
twitter
and
tumblr
)! A challenge where writers and podficcers join together to create awesome projects - the writer writing something specifically to be podficced, and the podficcer recording it.
Why are we doing this?
Reason One: A lot of podfic meta talks about the connection between podfic acting and TV or movie acting. But there haven't been many stories written specifically for podfic before. This challenge will give us a chance to take that analogy a step further, and also dispel some of the sense that podfic is nothing but a format shift for stories intended to be read on paper.
Reason Two: We think it will be a fun and interesting challenge for writers to write something specifically meant to be performed. For podficcers, the interesting challenge will be figuring out how to adapt to this format and bring the story to life.
Please read our FAQ/Rules post for more information.2015 TimelineSaturday May 30th
individual sign ups open.
Saturday June 6th
group sign ups open.
Sunday June 14th
sign ups close.
Monday June 15th
assignments go out to those who signed up individually.
June 15th-19th
icebreaker week.
Sunday June 28th
check in #1.
Sunday July 12th
check in #2.
Sunday July 19th
completed writing due.
Sunday August 2nd
check in #3.
Wednesday August 12th
early podfic submission date.
Sunday August 16th
all podfics due.
Wednesday August 19th
posting starts.
Friday August 28th
posting ends, Party Favors due.
Saturday August 29th
Party Favors posted.

Connect
Administrators

Members (142):
a_hobbit
,
adistantsun
,
aibreann
,
ailis_fictive
,
akamine_chan
,
akikotree
,
alexseanchai
,
amai_kaminari
,
amproof
,
amyelizabeth
,
andeincascade
,
annapods
,
aoifes_isle
,
aralias
,
argentumlupine
,
ariestess
,
arwen_lune
,
ashesandghostff
,
auroradream
,
binz
,
bluegeek
,
brunettepet
,
callisto24
,
canadian_superhero
,
cassandra_jaine
,
cathexys
,
caveat_lector
,
celtic_forest
,
cloudlake
,
colls
,
constantlyinconstant
,
cookiemom6067
,
croissantkatie
,
crookedspoon
,
dancinbutterfly
,
dapatty
,
darkexperience
,
desertport
,
dmarley
,
dragonsally
,
dunderklumpen
,
elementals_ao3
,
elf
,
elistaire
,
emmatheslayer
,
erica_schall
,
extrapenguin
,
feather_qwill
,
flipflop_diva
,
froggyfun365
,
gala_apples
,
growlery
,
gunpowderandlove
,
hagstrom
,
hananobira
,
havocthecat
,
heyitsnata
,
highlander_ii
,
honeynougat
,
hyperfocused
,
idella
,
inkjunket
,
jadesfire
,
jedusaur
,
jelazakazone
,
jenepod
,
jinkyo
,
jjhunter
,
jjtaylor
,
joking
,
juliet316
,
kaizoku
,
kalakirya
,
katerine
,
kdheart
,
kellifer
,
kess
,
kinetikatrue
,
klb
,
knight_tracer
,
lacerta
,
lady_ragnell
,
ladybrooke
,
lalitalemon
,
lavishsqualor
,
leish
,
lightbird
,
lirin_lirilla
,
looneyngilo2
,
lucifuge5
,
mab
,
macaron62
,
madnads
,
maekala
,
malnpudl
,
mangacat201
,
marianas
,
melusina
,
michellel23
,
miss_s_b
,
mistresscurvy
,
mistressjinx
,
mothlights
,
onthehill
,
opalsong
,
originally_dw
,
paraka
,
pennyplainknits
,
pi
,
podfic_lover
,
podlizzie
,
poppetawoppet
,
red_in_black
,
rootsofthestories
,
rubytuesday5681
,
sapphire2309
,
sapphoatsunset
,
scriggle
,
sepdet
,
shameless2shoes
,
shamrockjolnes
,
shmaylor
,
simplysynthetic
,
sklee
,
skyunicorn
,
smallearthcat
,
somethingincorporeal
,
somnolentblue
,
stripped
,
sunquistadora
,
sylvaine
,
tabithella
,
texmas
,
the_dragongirl
,
the_rck
,
thilia
,
tinypinkmouse
,
tsuki_no_bara
,
vaysh11
,
whuffle
,
xenakis
,
xojemmaxo

Subscribers (197):
a_hobbit
,
adistantsun
,
aibreann
,
ailis_fictive
,
akamine_chan
,
akikotree
,
alasse_irena
,
alexseanchai
,
allysseriordan
,
amproof
,
amyelizabeth
,
andeincascade
,
annapods
,
anotherslashfan
,
aoifes_isle
,
apparentopposite
,
aralias
,
argentumlupine
,
ariestess
,
arwen_lune
,
ashesandghostff
,
auroradream
,
autoclave
,
bluedreaming
,
bluegeek
,
brunettepet
,
busaikko
,
callisto24
,
canadian_superhero
,
cantarina
,
cassandra_jaine
,
cathexys
,
ceebee
,
celtic_forest
,
ceria
,
cloud_riven
,
cloudlake
,
constantlyinconstant
,
cookiemom6067
,
croissantkatie
,
crookedspoon
,
dancinbutterfly
,
dapatty
,
darkexperience
,
desertport
,
dmarley
,
dragonsally
,
duckwhatduck
,
dunderklumpen
,
eledhwenlin
,
elementals_ao3
,
elf
,
elistaire
,
emmatheslayer
,
endeni
,
erica_schall
,
extrapenguin
,
fangirlism
,
fleurrochard
,
flipflop_diva
,
froggyfun365
,
gala_apples
,
geckoholic
,
girlmarauders
,
girlpearl
,
gncurrier
,
growlery
,
gunpowderandlove
,
hagar_972
,
halfblood
,
hananobira
,
havocthecat
,
heard_the_owl
,
heartequals
,
heartofhandprints
,
heyitsnata
,
highlander_ii
,
honeynougat
,
house_of_lantis
,
hyperfocused
,
inkjunket
,
intransitive
,
jadesfire
,
jalu2
,
jedusaur
,
jenepod
,
jinkyo
,
jjhunter
,
jjtaylor
,
joking
,
juliet316
,
kalakirya
,
katerine
,
kellifer
,
kess
,
kinetikatrue
,
klb
,
knight_tracer
,
lady_ragnell
,
ladybrooke
,
lalitalemon
,
lattice_frames
,
lavishsqualor
,
leish
,
lessthan3is2
,
lightbird
,
looneyngilo2
,
lucifuge5
,
luzula
,
mab
,
macaron62
,
madnads
,
maekala
,
malnpudl
,
mangacat201
,
marianas
,
melusina
,
meus_venator
,
michellel23
,
mirrored_illusions
,
miss_s_b
,
mistressjinx
,
moirariordan
,
mothlights
,
ninety6tears
,
ohsnapitsrevolutiontime
,
onlysmallwings
,
onthehill
,
opalsong
,
originally_dw
,
paian
,
pameluke
,
paraka
,
pennypack
,
pennyplainknits
,
pensnest
,
pi
,
pineapplechild
,
pneumonie
,
podfic_lover
,
podlizzie
,
polydad
,
poppetawoppet
,
prophetic
,
puckb
,
pugglemuggle
,
red_in_black
,
redsnake05
,
roga
,
rootsofthestories
,
rosefox
,
rscreighton
,
rubytuesday5681
,
saffronbunbaker
,
sallysparrow017
,
sapphire2309
,
sapphoatsunset
,
schneefink
,
scintilla10
,
scriggle
,
sepdet
,
shameless2shoes
,
sharpeningthebones
,
simplysynthetic
,
sklee
,
skyseers
,
skyunicorn
,
smallearthcat
,
snickfic
,
snowynight
,
somethingincorporeal
,
somnolentblue
,
sophinisba
,
star_reader
,
stripped
,
sunquistadora
,
superstitiousme
,
sylvaine
,
tabithella
,
the_dragongirl
,
the_rck
,
thilia
,
tinypinkmouse
,
tsuki_no_bara
,
unsettledink
,
vaysh11
,
venturous
,
wallflowering
,
waterspodfic
,
wenchpixie
,
whuffle
,
wildandfreehearts
,
winterlover
,
wynnebat
,
xenakis
,
xojemmaxo
,
yangomogurt

Linking
To link to this user, copy this code:
On Dreamwidth:
Elsewhere: